Mimesis, Stage II, sound and video performance
I've had the great opportunity to be invited to experiment in Icebox Project Space, and have brought along a friend, the awesome sound designer Eugene Lew to play with ideas within the space. As a result, we'll be performing a live audio/video performance on March 25 at 8pm.

March 25, 2016 at 8pm
Icebox Project Space
1400 N. American St. Philadelphia, PA 19122
Cross Pollination Residency: January 11-17, 2016

In January, I participated in a weeklong collaborative artist residency as part of Swim Pony Performing Arts' multi-disciplinary Cross Pollination project. I worked with Classical Indian Dance performer, donia salem and theater director, Adrienne Mackey. The residency resulted a beginning stage of designing a board game that challenges the player's perception, space and memory of one's self and in relation to their family.
Solo exhibition
Vox Populi, Philadelphia
September 4 - September 27, 2015
Opening reception: Friday, September 4, 6-10 pm
Gallery hours: Wednesday - Sunday, 12-6 pm
Gallery talk with Anthony Elms on Sunday, September 13, 3pm
2015 Robert Flaherty Film Seminar Fellowship
I am grateful to receive a Philadelphia Fellowship funded by the Wyncote Foundation to attend the 2015 Robert Flaherty Film Seminar in June at Colgate University in Hamilton, NY. The weeklong seminar brings together filmmakers, artists, curators, and scholars to celebrate the power of the moving image. This year's seminar is entitled, "The Scent of Places," suggesting the ways cinema makes the subtlest of presence perceptible.
600 East Grand Avenue, Chicago, IL 60611
September 18-21, 2014
Included in the Special Exhibitions and Projects, Vox Populi will curate a selection of contemporary work by myself along with other Philadelphia-based artists.
Isolated Fictions
Hyde Park Art Center, Chicago
August 24 - November 22, 2014
Curated by Caroline Picard of Lantern Projects
(Isolated Fictions is part of the exhibition, Chicago Effect: Redefining the Middle)
Juried this year by Sarah McEneany
Woodmere Art Museum, Philadelphia
June 14 - September 1, 2014
Open House: Saturday, June 28, 12-4pm
Juror Gallery Talk: Saturday, July 12, 3pm
Included in the exhibition is from my on-going series, Crash. The images are cropped screenshots taken when my computer fails while I'm working on images. The compositions are an attempt to reframe moments of panic and technological breakdown.
Pictured is Crash (6/20/13, 12:20:09 PM), 10"x10" archival print on Matt FineArt – Textured paper, 2014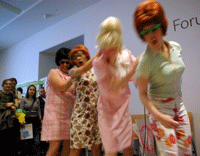 Performing Collectivity: In Conversation with Salem Collo-Julin and Maria Dumlao
AUX Performance Space, Philadelphia
Sunday, June 15, 4pm
Aux Performance Space Curatorial Fellow Jamillah James will moderate a conversation between Philadelphia-based artists Salem Collo-Julin and Maria Dumlao. The artists will discuss their histories of collective participation—Collo-Julin in Temporary Services and Dumlao in Brainstormers—and how their activities, ranging from exhibition-making and self-publishing to performative protests and street-level institutional critique, reimagine what creative production entails, and decenter its generation, interpretation, experience and circulation.
Gallery Talk
March 2, 2014
To listen to a recording of a conversation I had with Arcadia University Art Gallery Director, Richard Torchia and gallery guests on March 2, 2014, go to soundcloud.
Solo exhibition
Vox Populi, Philadelphia
February 7 - March 2, 2014
Opening reception: Friday, February 7, 6-11pm
Gallery talk with Richard Torchia on Sunday March 2, 3p
Live video Performance
November 1, 2013
CHRIS FORSYTH & THE SOLAR MOTEL BAND
perform "SOLAR MOTEL" with live video by MARIA DUMLAO
plus MIND OVER MIRRORS
Bowerbird Presents GATE @ The Rotunda
November 15, 2013, 8pm; FREE

I will be doing a live mix of the Solar Motel video along with the performance of the Solar Motel Band for the record release show of the same album. For more info and via facebook. See excerpt in YouTube.
Fort Thunder Attaks...Again!
Space 1026 in Philadelphia, PA
November 1 - 29, 2013
Under the pseudonym of "Lentls", I collaborated with 10 other Vox Populi member artists to re-create Fort Thunder's 1998 exhibit at Space 1026. See footage from A NIGHT OF NOISE, DRUMS & WRESTLING Reception
And for more info: fortthunder.voxpopuligallery.org, and ftthundy.tumblr.com.
The exhibition and events are part of CITYWIDE, an awesome Philly project of more than twenty artist-run collectives in a month-long exhibits.
Please sign up to get updates: